Navigation
Did you know that you're not alone in dealing with anxiety? The National Alliance on Mental Illness estimates that approximately 40 million adults in the U.S. are going through the same thing. Feeling isolated is a common side effect of anxiety, but take comfort in the fact that there are millions of others who can relate to your struggle.
What causes stress or anxiety?
Managing stress or anxiety requires understanding it first. Stress often kicks in due to a situation we can see and understand. Anxiety, on the other hand, is a cognitive state that's connected to our inability to regulate emotions. Anxiety triggers the same bodily response as stress, activating the autonomic nervous system and releasing "stress hormones" such as epinephrine and cortisol. When released into the bloodstream, these hormones lead to a spike in blood pressure, heart rate, and cholesterol levels, which can disrupt our immune system, energy levels, and sleep. Deep within the brain's limbic system lies the amygdala, two almond-sized nuclei that govern our senses, decisions, moods, and memories. In an evolutionary perspective, the amygdala is an essential asset for alerting us to life-and-death situations and triggering our fight-or-flight response. In modern times, it's conditioned to react similarly to everyday stressors, like approaching deadlines. The amygdala is where all of our reactions to life and expression happen, and it's our emotional thermostat. The amygdala is susceptible to forces like stress or anxiety that can reshape the structure and neural pathways of our brain. With constant stress and anxiety, the brain gets reprogrammed by the experiences it undergoes. Therefore, we need to learn how to regulate our emotions to keep our amygdala's response in a calm, rational, and level-headed setting.
Managing stress with small movements
Individuals with anxiety are more prone to fidgeting because they experience heightened arousal, resulting in an increase in manipulations of self, objects, and overall restlessness (Mehrabian & Friedman, 1986). Fidgeting is often perceived as an outward expression of an individual's discomfort, stress, or anxiety. The higher one's stress level, the more likely they are to fidget. (Farley, Risko, & Kingstone, 2013). Individuals report feeling less mental strain while they do something, which is due to redirecting one's attention temporarily away from a stressful stimulus. This short-term diversion of attention provides a physical outlet for stress (Mohiyeddini, Bauer, & Semple, 2013). Movement can be used to cope with and reduce stress as it releases energy from the body, even the small act of fidgeting, whether sitting or standing. Movement is a natural mood enhancer and stress reducer. (Mohiyeddini, 2013). Research shows that small movements, even as small as turning rings or stirring coffee, can boost neurotransmitters and help the amygdala return to its baseline state - a more rational reaction to stress and fear, and can increase our capacity to manage stress and be more aware. Through soothing motion with every turn, Wonder Inspired brings its signature spinning design to life, rooted in the sense of how we would make small moments and movements our daily self-care ritual, effortlessly relieving stress and calming the mind.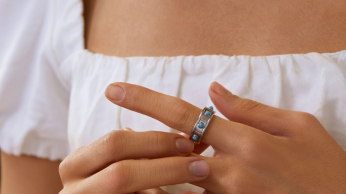 How to use spinner rings - make small moments and movements your daily self-care ritual
Combine your love for minimalist design with a daily self-care ritual. Wonder spinner ring featuring a turning element gives you the best of both worlds.
Pause time
When you are feeling stressed or overwhelmed, take a break from the craziness of life and turn the ring to help you calm your mind and steer your day.
Small moments in the day
Luxuriating in soothing motion brings the daily ritual of self-care to your finger, which can lead to calmness, acceptance, self-love and compassion.
Anytime, anywhere
Effortless and contemporary, Wonder spinner ring supports you throughout the day, giving you a sensation of stress relief, whether you're on the subway, in a meeting, or at work.
Daily essentials
A fresh take on the classic, a captivating creation for the touch, wear it alone or stacked with other Wonder jewelry, animating your outfit and uplifting your mood for any occasion.
Read More
Related Articles
Best spinner rings can help the person wearing them take the edge off of stressful situations in their lives, and you can find 6 detailed benifits at here.
Best spinner rings can help the person wearing them take the edge off of stressful situations in their lives, and you can find 6 detailed benifits at here.