Navigation
Wonder applied its technical expertise to bring its signature spinning design to life – that of a ring turning freely around its axis when caressed between the fingers.
The turning of the ring is an equally soothing and energizing gesture. Depending on the style, whether gem-set or high-polished surface, creating such spin awakens your senses and elevates your energy. The common denominator in each of Wonder's jewelry is daily essential.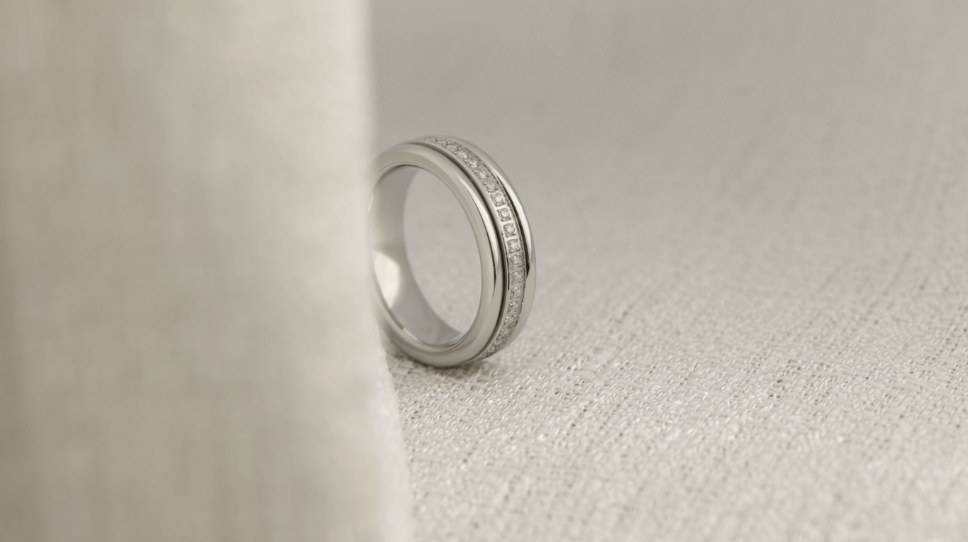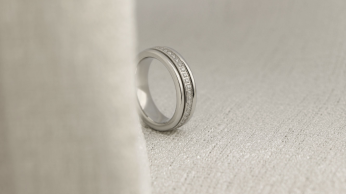 Ultra-thin
The ultra-thin has been an obsession of the Wonder Inspired since the beginning, when we set ourselves the challenge of creating a spinner ring so thin it had never been done before. At only 2.5 mm thick with titanium collection, the essential spinner ring was known for its subtleness and elegance, as well as its comfort and easy-wear for every day. We have continued to create increasingly thin spinner rings, within our vermeil and sterling silver collection, at only 2mm thick. We use computer numerical control (CNC) machines to precisely cut and shape the material into the desired shape of the spinner ring. This technology involves machining the turning elements for high consistency, with an accuracy that no other spinner rings offer, with errors controlled to even less than 0.05 mm, redoubling previous efforts with each manipulation.
The Artistry of Stones
Color and energy came to the turning and soothing motion, through the use of stones such as onyx, malachite, turquoise, lapis lazuli, citrine, amethyst, and moonstone. A labor of love and energy, these stones were slowly formed over millions of years, with nature's magic working tirelessly to produce unimaginable beauty and power on them. We celebrate these stones by creating pieces that use the best setting techniques and allow these stones to shine at full capacity.
High-quality Metals
Each and every material we use must pass our test for everyday wear. We purposefully work with gold vermeil, sterling silver, and titanium for that reason.
18k Gold Vermeil
Our gold vermeil is a premium material crafted to last, layering 18k gold at least 2.5 microns thick onto 925 sterling silver, which is 5x thicker than average gold plating and more durable. In comparison, gold plating is typically a thin layer of gold over a less durable metal such as brass.
Sterling Silver
We use certified 925 sterling silver, a metal made of 92.5% pure silver mixed with alloys to create a highly durable material, free of nickel and other allergenic metals for everyday wear. We coat our silver in rhodium - among the rarest precious metals - which gives a superior luster and durability. All our silver is 100% recycled, significantly reducing emissions without sacrificing quality.
Titanium
Titanium is a strong and durable metal that we use in our jewelry for its long-lasting qualities. With its durability and lightweight properties, titanium jewelry is perfect for everyday wear and comfortable to wear all day long. Plus, titanium jewelry is hypoallergenic and biocompatible, making it safe for sensitive skin. With proper care, titanium will maintain its appearance for a lifetime.
Read More
Related Articles
Best spinner rings can help the person wearing them take the edge off of stressful situations in their lives, and you can find 6 detailed benifits at here.
Best spinner rings can help the person wearing them take the edge off of stressful situations in their lives, and you can find 6 detailed benifits at here.